TUESDAY, SEPTEMBER 1, 2015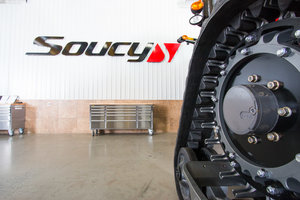 John Deere and Soucy announced on Aug. 28 that they have formed an alliance to sell and distribute products through the John Deere dealer channel. Specifically, this deal will further the distribution and sale of track technology known as S-TECH 012P for planters.
"This agreement will allow our dealers to provide a track configuration on all 1770NT and 1775NT planter models equipped with hydraulic drive or electric drive," said Casey Dray, product manager, John Deere Planter Works. "In some field conditions, this will increase flotation and optimize planter performance when operating in more difficult conditions."
The S-TECH 012P planter track will be introduced to the public at the Farm Progress Show, slated to take place between Sept. 1 and Sept. 3 in Illinois. It is compatible with Deere NT planters that have 12-to-24 rows. Furthermore, it can be installed on machines in less than three hours.
"In wet field conditions, the Soucy Track configuration on planters can improve seeding performance," Dray continued. "The tracks help the planter maintain a uniform seeding depth, minimize compaction, and reduce pinch-row soil build-up. With Soucy Track products, we now offer our customers more options for optimizing planter performance."
John Deere will also be at the Farm Progress Show, which has been named the largest outdoor farm equipment show in the U.S. The 2016 John Deere 9RX Tractor will be on view, which is one of many new models that features a 4-track system.